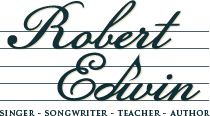 Welcome to the Robert Edwin Studio!
Robert Edwin Studio est. 1975 — Robert Edwin est. 1946
Robert's CDs


More to Life


Christian Songs

Take Them
Along, Our Songs

Legacy
More to Life (2008)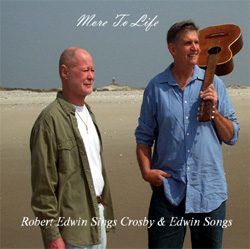 "More To Life - Robert Edwin Sings Crosby & Edwin Songs" presents a collection of the songwriting efforts Richard E. Crosby and Robert Edwin. Featuring folk, rock, country, R & B, and pop styles, the songs speak about the life experiences of these two artists on the plus side of sixty years of age. In a culture dominated by the young, this CD offers insights that only age and experience can generate.
Track Listing
Comfort Me
Wind Song
London When It's Raining
There's A Woman
You Never Seem To Notice
I Didn't Buy A Ticket For This Ride
It's Just Gonna Take A Little Time
Two-Step Country Blues
Country Wedding Song
One Year For My Money
Children Love Ye
The Island
Song Of Separate Ways
More To Life.
Purchase "Robert Edwin - More to Life":
CD Baby

Robert Edwin Studio, LLC
1509 Glenview Drive
Cinnaminson, NJ 08077-2156